Disclosure: As an Amazon Associate I earn from qualifying purchases.
There are many reasons a dishwasher should be quiet . However, a quiet dishwasher is particularly important in an open kitchen or a kitchen-living room .
The kitchen is the central meeting point in the apartment. Here people eat, drink, talk, play and sit comfortably together. In our open kitchen, we even watch films and series on our notebook, which is on our large kitchen table.
However, the cozy get-together can be badly disturbed if a loud dishwasher is doing its helpful job at the same time.
One thing is clear: a dishwasher as quiet as possible is needed . ?
In this article, we'll show you how to find such a device and what to look out for.
Quiet dishwasher Siemens SN658X06TE iQ500 Wi-Fi
The Siemens SN658X06TE iQ500 Wi-Fi is a quiet dishwasher with a noise level of only 42 dB.
With an energy efficiency class of A +++, an annual energy consumption of 237 kilowatt hours and a water consumption of 2660 liters per year, the dishwasher is one of the most economical appliances.
14 place settings is the capacity of this model.
The Siemens SN658X06TE iQ500 uses zeolite drying technology. A natural mineral is used to convert moisture into thermal energy in order to create effective drying conditions.
In addition to many other highlights, it is certainly worth mentioning that this dishwasher is WiFi-enabled and therefore compatible with Alexa.
Quiet dishwasher Bosch SMV68TX06E series 6
The Bosch SMV68TX06E Series 6 dishwasher is also specified with a noise level of only 42 dB. In the special Silence program it should even be only 40 dB (A).
This device convinces with the energy efficiency class A +++, an energy consumption of 237 kWh / year and a water consumption of 2660 liters / year. The capacity is 14 place settings.
The Bosh dishwasher also uses zeolite drying technology for the drying process. The device can also be controlled via the app.
With the Vario drawer Pro, this dishwasher offers a third loading level that is ideal for, for example, cutlery.
The Bosch SMV68TX06E Series 6 offers 8 programs (Intensive 70 ° C, Auto 45-65 ° C, Eco 50 ° C, Silence 50 ° C, 1.5h 60 ° C, Glass 40 ° C, Quick 45 ° C, Pre-Rinse) , 4 special functions (Home Connect function, VarioSpeed ​​Plus, HygienePlus, Extra drying) and a machine care program
Quiet dishwasher Bauknecht BUC 3C32 X
The Bauknecht BUC 3C32 X dishwasher is also specified with a noise level of only 42 dB. Also with an energy efficiency class A +++, a cleaning efficiency class A and a drying efficiency class A.
With 280 wash cycles in the standard program, the annual consumption is 2660 liters of water and 238 kWh of electricity.
The device comes with what is known as sensor technology. Special sensors continuously measure the degree of pollution of the water and automatically adjust the water consumption, temperature and energy consumption.
Also worth mentioning is the special night rinse program, which, according to the manufacturer, should get by with almost no noise. The pre-selected start time, the express program and the electronic child lock are also practical.
In terms of capacity, the device is designed for 14 place settings.
You should pay attention to this when buying a quiet dishwasher
When buying a quiet dishwasher, however, you shouldn't just pay attention to the volume.
Because there are a few other important purchase criteria that should not be lost sight of.
From our point of view, these are:
volume
If you are looking for a quiet dishwasher, then of course you should primarily pay attention to the volume.
This is easy thanks to the energy consumption labeling for dishwashers, as manufacturers must also state the noise emissions of dishwashers.
The maximum noise development in decibels is mentioned here during washing.
In practice it looks like this: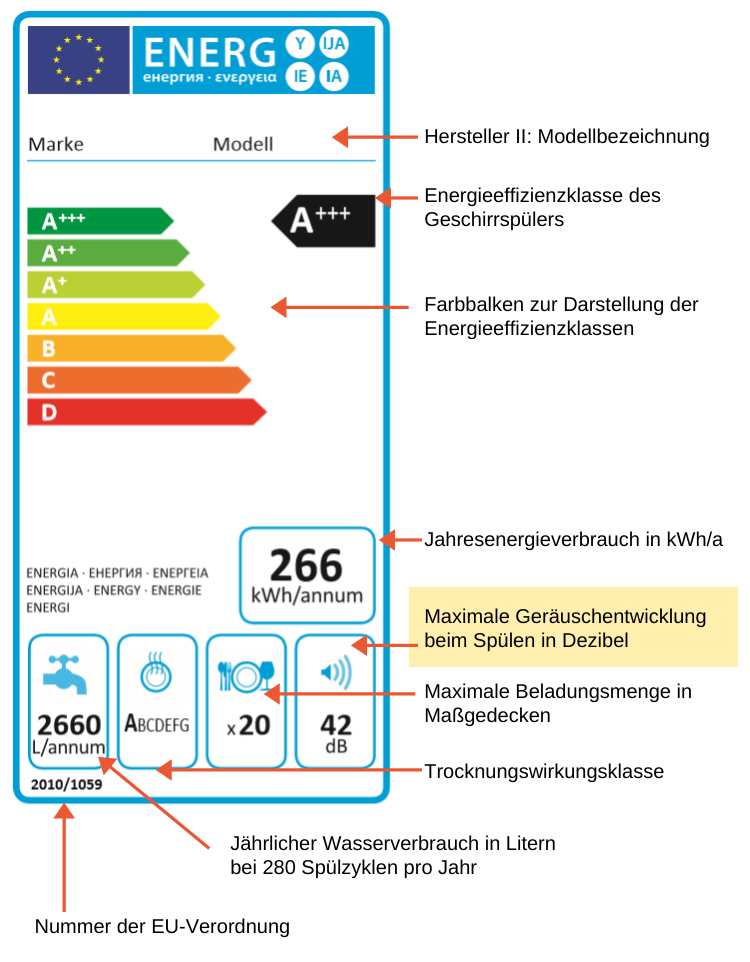 Dishwashers with a noise level of around 40 dB are still perceived as quiet by many people.
However, you should refrain from devices that are specified with a noise emission of 50 dB and more. This is mostly perceived as loud.
Dimensions and capacity
Most dishwashers are 60 cm wide. At this level, a quiet dishwasher can usually simply replace a kitchen cabinet.
However, there are also devices with a smaller width of 45 cm. Such models are mostly so-called single dishwashers, which are designed for 1 to max. 2 people household are designed.
Due to the narrower design, of course not as many dishes fit in such devices as in devices with a width of 60 cm. Families should therefore resort to a broader device.
capacity
The capacity of dishwashers is determined by the place setting. The place setting is a set number of crockery and cutlery in a given composition and size.
According to the European standard EN 50242, a place setting consists of the following crockery, cutlery and serving items:
Dinner plate ø26 cm
Soup plate ø23 cm
Dessert plate ø19 cm
Saucer ø14 cm
Cup 0.2 l
Drinking glass 250 ml
Knife 203 mm
Fork 184 mm
Soup spoon 195 mm
Teaspoon 126 mm
Dessert spoon 156 mm
If the capacity of a dishwasher is, for example, 12 place settings, then the crockery, cutlery and serving items listed will fit 12 times in the machine.
You can find more about the European standard EN 50242 at Wikipedia .
However, you should note that this standard should only be viewed as a rough guide. Because of course there are dishes which deviate from these dimensions.
Of course, larger dishes require more space in the machine.
We ourselves have, for example, much larger cups in use than the 0.2 l cups from the place setting. And our glasses are bigger too.

power consumption
Of course, the energy consumption of a dishwasher is also an important factor. Because here the question "How much electricity and water does my dishwasher use?" Is answered.
The energy consumption labeling for dishwashers is again very helpful here. You should pay attention to the following information:
Energy efficiency class of the dishwasher
Annual energy consumption in kWh / a
Annual water consumption in liters with 280 flushing cycles per year
The annual energy consumption is indicated on the EU energy label in kilowatt hours per year (kWh / a). Using this information, you can now easily compare the power consumption of several devices with each other.
The less electricity is used, the better for your electricity bill.
A dishwasher with standard dimensions of 60 cm wide should consume a maximum of 240 kilowatt hours (kWh) per year. That corresponds roughly to electricity costs of around 70 euros.
Energy efficiency class
The energy efficiency class, which is shown with a colored scale on the EU label, indicates how efficiently a dishwasher works.
Nowadays there are new dishwashers only in classes A +++, A ++ and A +
If you want to buy a new dishwasher, you should use a device with efficiency class A +++. This will save you the most electricity.
Water consumption
You can also read off the water consumption on the EU label. The annual water consumption is given here in liters for 280 rinsing cycles per year. Modern appliances often use surprisingly little water per wash program.
Depending on the procedure and the washing program used, it may well be that a modern dishwasher uses less water than washing by hand.
One can speak of a good consumption value if less than 10 liters are used per wash cycle.

Space available
One factor that you shouldn't underestimate is the amount of space inside the quiet dishwasher.
Depending on the dishes, it can be important, for example, that the upper basket can be adjusted in height so that there is space for higher dishes in the lower basket.
You should also make sure that there are enough glass holders and cup racks.
Some dishwashers come with a separate cutlery drawer instead of a cutlery basket for the lower basket.
This naturally creates more space for dishes in the lower basket. Filling and removal is also easier for some people with such a cutlery drawer.
Not all dishwasher is the same. Inside, too, the individual models can differ considerably from one another.

Washing programs
Put dishes in the dishwasher and press start? That's how easy it can be. But before that you have to make an important decision.
You have to set the right washing program. And indeed – depending on the model – there are quite a few different wash programs to choose from.
It is best to take a look at the washing programs the appliance has to offer before buying.
For example, the following or similar programs can be selected:
Normal program
Standard program
ECO program
Glass program
Hand wash program
Automatic program
Quick program (short program)
Hygiene program
Intensive program
Night program
quiet washing program
Gentle program
etc.
For example, if you have a baby at home, you might want to have a special hygiene program with which baby bottles can be rinsed hygienically clean.
Or would you like to run your dishwasher at night? Then a special night program could be of interest to you.
Drying performance
After the dishes have been washed by your machine, they should of course also be dried immediately afterwards. Various technologies can be used for drying.
The drying efficiency class is indicated on a scale from A to G on the EU label. The only recommendation here is to always pay attention to class A.

Installation type
Those who want to buy a quiet dishwasher will sooner or later be confronted with the different types.
These types are usually called as follows:
Fully integrable
Partly integrable
Can be built under
Free-standing (standing device)
But what exactly do these terms mean?
Fully integrable
A fully integrated dishwasher is installed under the worktop. In addition, the entire front of the device is clad with a kitchen front that matches the kitchen.
With such devices, the control element is invisible from the outside on the top edge of the door. The element is only visible when the door is open.
As a result, the dishwasher almost completely disappears from the field of vision and can no longer be recognized as such.
From an aesthetic point of view this is of course an advantage. The disadvantage, however, is that you can no longer read how long the device will still need.
Partly integrable
A partially integrated dishwasher is also installed under the worktop. The front is also clad with a front that matches the kitchen.
However, not over the entire surface, because the control panel remains visible in a partially integrated dishwasher.
The advantage of this type is that you can read on the display at any time how long the device is likely to continue to work.
Can be built under
A dishwasher that can be built under can also be installed under the worktop. However, the front of this type remains completely without cladding.
The door and display can always be seen.
The disadvantage of this type is that the device does not always perfectly match the kitchen.
However, some dishwashers that can be built under can be decorated. This means that in this case a decorative panel can be attached to the front.
Detached
As the name suggests, a free-standing dishwasher can be set up free-standing in the kitchen.
In contrast to devices that can be built under, such a device has a stable cover plate.
If the cover plate is removable, a free-standing dishwasher can also be installed under a worktop and can therefore be built under.
user friendliness
After all the more technical factors, you shouldn't overlook the ease of use of a quiet dishwasher. It depends on whether you generally get along well with the operation of the machine or not.
For example, check whether you understand the labels and symbols on the control panel well and whether the display is easy to read.
With this topic in particular, it can be an advantage to study a few customer reviews on the respective device. Because here users usually report from practice how satisfied they are with their dishwasher.
There you will often find information and comments on the usability of the respective device.
What else can affect the volume of a dishwasher?
In addition to the volume of the individual devices, you should always keep an eye on the respective room acoustics.
Because in a room with poor room acoustics and strong reverberation, even a quiet dishwasher can seem too loud. You can also do something about reverberation in the kitchen.
Here you will find 14 ideas for better surround sound . Some of these measures are also useful in the kitchen.
Are quiet kitchen and household appliances becoming more and more popular?
According to our observation, attention has been paid to quiet kitchen and household appliances, especially in recent years. We do it that way too.
And in fact, you can often save quite a bit of noise with suitable equipment. For example with a quiet refrigerator or a quiet vacuum cleaner .
Some time ago we measured the volume of our household appliances with a sound level meter in order to have some comparison values ​​ready.
So you can identify one or the other "villain" at home and look for quieter alternatives.
Conclusion
The dishwasher should be more and more quiet. Because especially in open kitchens and eat-in kitchens, where you often sit comfortably together, no loud kitchen appliances should disturb the pleasant conversation if possible.
Fortunately, these days it's not difficult to look for a particularly quiet dishwasher.
In this article we introduced you to three devices and also described what you should pay attention to when buying.
Disclosure: Amazon and the Amazon logo are trademarks of Amazon.com, Inc, or its affiliates.